Becoming Enlightened
Unabridged Audiobook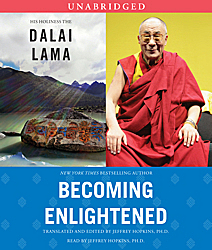 Duration:
9 hours 38 minutes
Summary:
In Becoming Enlightened, His Holiness the Dalai Lama draws from traditional Buddhist meditative practices to present step-by-step contemplative exercises designed to expand the reader's capacity for spiritual growth, along with clear milestones to mark progress. By following the spiritual practices outlined in Becoming Enlightened, readers can learn how to replace negative feelings with positive attitudes and embark on the path to achieving an exalted state within ourselves and within the larger world.
Complete with personal anecdotes and intimate accounts of the Dalai Lama's experiences as a life-long student, meditator, political leader, Nobel Laureate, bestselling author, and revered international figure, Becoming Enlightened gives readers all the wisdom, support, guidance, and inspiration they need to become successful in their spiritual lives. This remarkable and empowering guide can be read and enjoyed by spiritual seekers of all faiths, as readers are captivated by His Holiness the Dalai Lama's loving and direct teaching style.
Genres:
2 of 2 people found this review helpful.