Becoming Queen
Unabridged Audiobook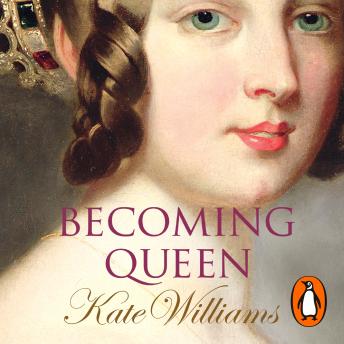 Duration:
14 hours 36 minutes
Summary:
'I will be good,' promised the thirteen-year-old Victoria, when she understood that she would be Queen of the most powerful country in the world. That, of course, is a matter of opinion. And there are other layers to the story.

With a combination of novelistic flair and historical accuracy, Kate Williams begins by relating the heartbreaking story of Princess Charlotte, the Queen who never was, and her impact on the young Victoria. Our perception of Victoria the Queen is coloured by portraits of her older, widowed self - her dour expression embodying the repressive morality propagated in her time. But Becoming Queen reveals an energetic and vibrant woman, determined to battle for power. It also documents the Byzantine machinations behind Victoria's quest to occupy the throne, and shows how her struggles did not end when finally the crown was placed on her head.

In the late eighteenth century, monarchies were in crisis across Europe. Discontented with their mad King, George III, and his spendthrift offspring, the English pinned their hopes on the only legitimate grandchild: Princess Charlotte, daughter of George, Prince of Wales. But Charlotte died at the age of twenty-two, a few hours after giving birth to a stillborn son. A grieving nation immediately began venerating her as someone who would have made an ideal Queen while Charlotte's rackety uncles embarked on a race to produce the next heir.

No one thought that little Victoria, daughter of the Duke of Kent, would ascend the throne. She, in turn, became increasingly determined to take control of her own destiny, and clashed constantly not only with her hugely ambitious mother but with her protégé and household comptroller, the Irish adventurer, John Conroy. After she became Queen, ministers, even her beloved Prince Albert, still attempted to steal power away from her.

Revealing how Charlotte's death shaped Victoria's reign and laying bare the passions that swirled around the throne, Becoming Queen is an absorbingly dramatic tale of secrets, sexual repression and endless conflict. After her lauded biography of Emma Hamilton, England's Mistress, Kate Williams has produced a most original and intimate portrait of Great Britain's longest reigning monarch.
Genres: