The Beggar King and the Secret of Happiness: A True Story
Unabridged Audiobook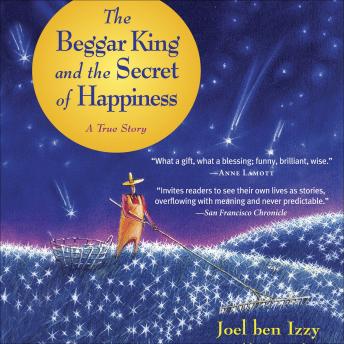 Duration:
4 hours 37 minutes
Summary:
When a storyteller loses his voice, he believes he's lost everything. In fact, he's been given a great gift.

Once upon a time, a successful storyteller lost his voice to throat cancer. Deprived of the instrument of his art and his livelihood, he retreated into dark, sullen silence and depression. While searching for a spiritual explanation, he encountered his former mentor, a cantankerous and often drunk old man. Their meetings began a journey into the timeless wisdom of ancient tales: of beggars and kings, monks and tigers, lost horses, buried treasures, and ultimately the secret of happiness.

In this altogether original book, Joel ben Izzy shares his personal account of surviving loss, gaining wisdom, and rediscovering one's true purpose. Weaving in tales he's collected over the years from Sufi, Muslim, Chinese, Jewish, Iraqi, Zen Buddhist, Italian, and Indian cultures, he passes along the lessons he has learned. As we travel with Izzy from tragedy back into light and sound, we are encouraged to see our own lives as stories, and to open our own hearts to happiness.
Genres: