Beginner's Quick Guide to Understanding the What, Why, and How of Neuro-Linguistic Programming (NLP)
Unabridged Audiobook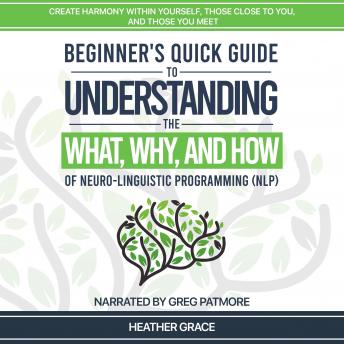 Duration:
2 hours 20 minutes
Summary:
Do you want the power to change your thoughts, behaviors, and your future?



Neuro-linguistic programming (NLP) can help you to do just this. Through various practical techniques, NLP empowers you to be a better individual both inside and out. Your enthusiasm for life and positive demeanor become infectious, and people will flock to you for advice on how they can achieve the same outcomes.

Once you transform your mind, you open yourself up to exponential change. NLP provides all the tools to obtain this transformation. You will learn how to overcome past trauma, face your fears, and deal with internal conflicts. These teachings are then taken outside of your body so that you become an active participant in daily life with a desire to succeed in all areas. Being a positive influence will become important to you, and you will be able to help others change their lives for the better.

NLP teaches you to use communication and your experiences to understand the world better. By doing so, you give yourself the power to win the battles in your mind, improve your mental endurance, and speak the language of your soul. NLP will manifest inner excellence in your life and inspire you to become a better person. Only then can you act in a way that produces good for yourself, your social circle, and the world as a whole.
Genres: