Betrayer of Worlds
Unabridged Audiobook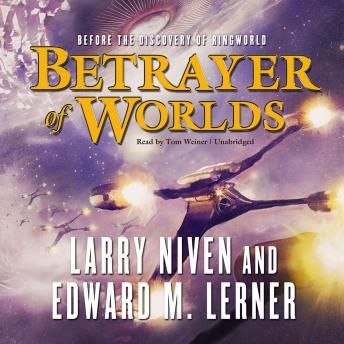 Duration:
9 hours 38 minutes
Summary:
A prelude to the seminal science fiction classic, Ringworld
Since fleeing the supernova chain reaction at the galactic core, the cowardly Puppeteers of the Fleet of Worlds have—just barely—survived one crisis after another: the rebellion of their human slaves, the relentless questing of the species of Known Space, the spectacular rise of the starfish-like Gw'oth, and the onslaught of the genocidal Pak.
Now fresh disaster looms, as though past crises have returned and converged. Who can possibly save the Fleet this time?
Louis Wu? Trapped in the Wunderland civil war, all he wants is to go home—but the only possible escape will plunge him into unknowable danger.
Ol't'ro? The Gw'oth ensemble mind fled across the stars to establish a colony world free from tyranny. But some problems cannot be left behind, and other problems—like the Fleet of Worlds itself—are racing straight at them.
Achilles? Despite past disgrace, the charismatic Puppeteer politician knows he is destined for greatness. He will do anything to seize power—and take his revenge on everyone who ever stood in his way.
Nessus? The insane Puppeteer scout is out of ideas—and resources—with only desperation left to guide him.
Their hopes and fears, dreams and ambitions are about to collide. And the winner takes … worlds.
Genres: