The Big Book of Adventure Stories
Unabridged Audiobook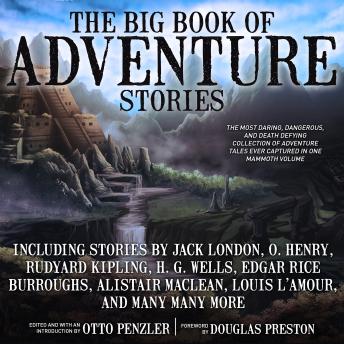 Duration:
58 hours 42 minutes
Summary:
Everyone loves adventure, and Otto Penzler has collected the best adventure stories of all time into one mammoth volume. With stories by Jack London, O. Henry, H. Rider Haggard, Alastair MacLean, Talbot Mundy, Cornell Woolrich, and many others, this wide-reaching and fascinating volume contains some of the best characters from the most thrilling adventure tales, including The Cisco Kid; Sheena, Queen of the Jungle; Bulldog Drummond; Tarzan; The Scarlet Pimpernel; Conan the Barbarian; Hopalong Cassidy; King Kong; Zorro; and The Spider. Divided into sections that embody the greatest themes of the genre-Sword & Sorcery, Megalomania Rules, Man vs. Nature, Island Paradise, Sand and Sun, Something Feels Funny, Go West Young Man, Future Shock, I Spy, Yellow Peril, In Darkest Africa-it is destined to be the greatest collection of adventure stories ever compiled.

Featuring: lawless open seas, ferocious army ants, deadeyed gunmen, exotic desert islands, and feverish jungle adventures.

Including: the story that introduced The Cisco Kid and the complete novel of Tarzan the Terrible.
Genres: