Big Country, Vol. 2: Stories of Louis L'Amour
Unabridged Audiobook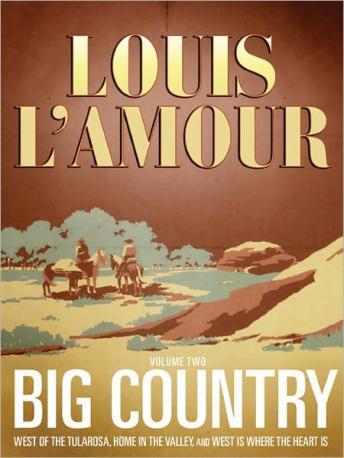 Duration:
3 hours 28 minutes
Summary:
Louis L'Amour said that the West was no place for the frightened or the mean. It was a "big country needing big men and women to live in it." Here are three more of his fine short stories about the West.

West of the Tularosa Ruth Kermitt, owner of the Tumbling K ranch, made a deal with old Tom McCracken, owner of the Firebox spread, to buy his ranch. That's why the Tumbling K's foreman, Ward McQueen, and some of the Tumbling K crew have come to take possession. But in a deserted bunkhouse on the Firebox, they find the body of Jimmy McCracken, son of the former owner, who was clearly killed in a gunfight. Then, Sheriff Bill Foster shows up with a posse. Riding with that posse is Neal Webb, who claims that he owns the Firebox and that he's got a transfer deed signed by Jimmy McCracken conveying that ownership. Webb seizes the opportunity to accuse Ward McQueen and his men of killing McCracken in order to claim possession of the Firebox. Despite his innocence, McQueen sees that he will have a tough time staying out of jail long enough to discover who the real killers are.

Home in the Valley Steve Mehan had accomplished what many had believed to be impossible. He had taken cattle from the home range in Nevada to California in the dead of winter. Not only that, he had been successful in selling them. Now the money from the sale is on deposit with the Dake & Company bank in Sacramento. That $24,000 will save all five ranches in Paiute Valley that had supplied cattle for the drive. Mehan is feeling good about all of this when, to his shock, he reads in the newspaper that Dake & Company has failed. And there is one nasty hombre who is mighty happy to hear this. He sneeringly tells Mehan that those ranchers have lost out and since they can't pay their debt—and he will become the new owner. But Mehan isn't ready to give up. There is a bank branch in Portland, Oregon, and if Mehan can get to it and withdraw the money before the steamer boat heading for Portland arrives with the news of the bank failure, he wins. To do that, Mehan will have to start out immediately, hoping for stamina, luck, and a long relay of good horses to cover those hundreds of miles.

West Is Where the Heart Is Jim London is on his way home. During the four years of the War between the States, he has not been home, seen his wife, Jane, or been able to send word of his whereabouts. For all she knew, he was dead. Fellows have told him she wouldn't have waited for him, but London believes differently. Then, just two hundred miles from home, London comes across a burned-out wagon train. Nine wagons had been hit by the Comanches, and they left only a ruin behind: overturned wagons, dead livestock, ransacked belongings, and dead bodies strewn on the ground. Yet Jim discovers that not everyone is dead. He finds little Betty Jane, a five-year-old who had been able to hide successfully during the attack. The only thing to be done is for him to take her along with him. But during their journey, he discovers that the child knows something that no one else does.
Genres: