BITCOIN AND CRYPTOCURRENCY TRADING FOR BEGINNERS: HOW TO 100X YOUR MONEY WITH ALTCOINS IN THE BULL MARKET | 2 BOOKS IN 1
A free trial credit cannot be used on this title.
Unabridged Audiobook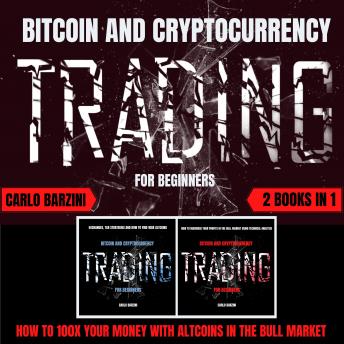 Duration:
6 hours 53 minutes
Summary:
THIS AUDIOBOOK INCLUDES 2 MANUSCRIPTS:

·       BOOK 1 - EXCHANGES, TAX STRATEGIES AND HOW TO FIND 100X ALTCOINS

·       BOOK 2 - HOW TO MAXIMISE YOUR PROFITS IN THE BULL MARKET USING TECHNICAL ANALYSIS

GET THIS AUDIOBOOK NOW AND START INVESTING TODAY!

Book 1:

·      Fundamentals of Bitcoin, Altcoins, Tokens and other crypto assets

·      Why Tesla, Mastercard and PayPal invested in Bitcoin

·      Which asset is better: Bitcoin Or Ethereum

·      How Bitcoin works

·      How to make the best Investment Decisions

·      Where To Find 100x Tokens Early

·      Crypto Tax Strategies

·      How to Find 100x Token Sales

·      What are the Best 5 Altcoin Picks for 2021 and beyond


Book 2:

·      Must Have Crypto Trading Apps

·      Ether Futures & CME Group

·      Technical Analysis For Crypto

·      How to Maximise The Bull Run

·      Must Have DeFi Crypto Card

·      Trading With EWT Tokens

·      How to Max Crypto Card Rewards

·      How to Tokenize Risk With DeFi


BUY THIS AUDIOBOOK NOW AND GET STARTED TODAY!
Genres: