A Bittersweet Season: Caring for Our Aging Parents---And Ourselves
Unabridged Audiobook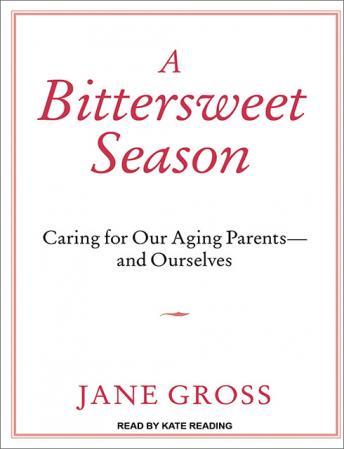 Duration:
15 hours 30 minutes
Summary:
In telling the intimate story of caring for her aged and ailing mother, Jane Gross offers indispensable, and often surprising, advice for the rapidly increasing number of adult children responsible for aging parents.

Gross deftly weaves the specifics of her personal experience-a widowed mother with mounting health problems, the attendant collision of fear and ignorance, the awkward role reversal of parent and child, unresolved family relationships with her mother and brother, the conflict between her day job and caregiving-with a comprehensive resource for effectively managing the lives of one's own parents while keeping sanity and strength intact.

Packed with information, A Bittersweet Season explains which questions to ask when looking for a nursing home or assisted living facility; how to unravel the mysteries of Medicare and Medicaid; why finding a new general practitioner should always be the first move when relocating an elderly parent; how to weigh quality against quantity of life when considering medical interventions; why you should always keep a phone charger and an extra pair of glasses in your car; and much more. It also provides astute commentary on a national health care system that has stranded two generations to fend for themselves at this most difficult of times.

No less important are the lessons of the human spirit that Gross learned in the last years of her mother's life, and afterward, when writing for the New York Times and The New Old Age, a blog she launched for the newspaper. Calling upon firsthand experience and extensive reporting, Gross recounts a story of grace and compassion in the midst of a crisis that shows us how the end of one life presents a bittersweet opportunity to heal old wounds and find out what we are made of.

Wise, unflinching, and ever helpful, A Bittersweet Season is an essential guide for anyone navigating this unfamiliar, psychologically demanding, powerfully emotional, and often redemptive territory.
Genres: