Blane's Turn
Unabridged Audiobook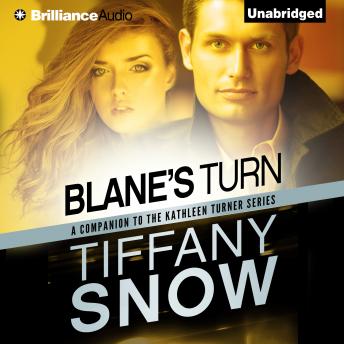 Duration:
8 hours 42 minutes
Summary:
Blane Kirk is a Navy SEAL-turned-attorney with old money and an even older pedigree. High powered and aggressive, he plays the field, changing women as often as he changes his ties—but he's had no complaints so far. He has only two rules: don't date employees, and don't get emotionally involved. These are rules he can easily live by…until his runner, an employee in his law firm named Kathleen Turner, does an unexpected face-plant into his lap.

Kathleen's too young and innocent for Blane, and much too vulnerable. After her friend is murdered, Blane knows she could be next—and he knows that keeping her alive means keeping her close to him. Kathleen's like no woman he's ever met, and protecting her could be the one thing to change his life forever. He may be able to keep her safe from the killer…but can he keep her safe from himself?

Blane's Turn is a companion novel to No Turning Back, Book One in The Kathleen Turner Series.
Genres: