Blogging: How to Make 6 Figure a Year Blogging Using Social Media Marketing and Affiliate Marketing Strategies
A free trial credit cannot be used on this title.
Unabridged Audiobook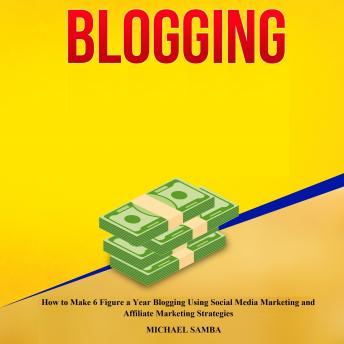 Duration:
3 hours 12 minutes
Summary:
Have you ever thought about building an online business from home writing and blogging about the topics that you are passionate about? Have you ever wondered how you can get free traffic to your website, so you can turn visitors into customers? 

Would you like to learn about the various ways you can earn passive income through blogging by implementing effective SEO strategies and affiliate marketing techniques? If so, then this is the right book for you. 

This audiobook is designed for anyone who is interested in creating and earning money from their blog. It has the exact strategies that are used by the big guys who are making full-time income from home. 

In this book, Blogging for Profit: $100,000/Year Step by Step Guide - How to Make Passive Income Wealth Using Killer SEO Methods, Affiliate Marketing Techniques, and Effective Social Media Marketing Strategies, Chris Messi explores the various methods of how to earn a high six figure income through blogging. Here is a preview of some of the ideas you will learn:


- How to make money from your blog
- How to setup and customize your blog
- The importance of building trust with your customers and how to do it effectively
- Various ways to get free traffic to your website
- How to use paid advertisements to scale up your business
- How to use social media marketing to increase your profit
- The power of using email marketing
- How to create digital products that people are dying for
- And much more....

If you are ready to take charge of your life and start to build a full-time income from your home through blogging, then scroll up and click the "buy" button.
Genres: