Blood Lust
Unabridged Audiobook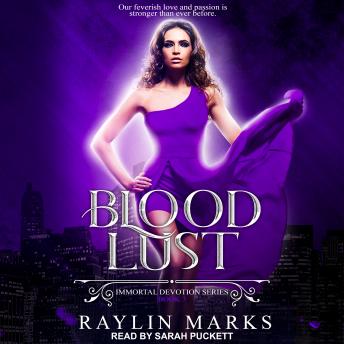 Duration:
6 hours 52 minutes
Summary:
The sensual appetite for the four vampires and Elle increases after an ancient curse falls on her.

Their lust and love was strong enough to seal their bond, until dark magic worked its way into their lives. Elle will do anything for her four hot vampires, but now the game changes, and they're sacrificing to keep her lustful cravings under control.

Once the Banners realize it is going to take more than a witch to reverse the dark magic looming over all of them, they're forced to go under cover to a vampire academy for answers from the one person who may have them.

The Banners may be the strongest immortals alive, but one human is proving to be their greatest weakness and they'll do anything to free her from a life of sex, blood, and cravings for more than any of the vampires could have imagined.

But do all of them really want this curse reversed? Love, sex, cravings, and not enough men at once will have Elle climbing the walls of the academy needing her vampires to curb her growing appetite for them.

Contains mature themes.
Genres: