Blood, Sweat and My Rock 'n' Roll Years: Is Steve Katz A Rock Star?
Unabridged Audiobook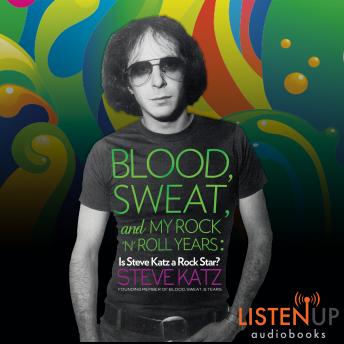 Duration:
8 hours 23 minutes
Summary:
Steve Katz's memoir is more Portnoy's Complaint than the lurid party-with-your-pants-down memoir that has become the norm for rock 'n' roll books. An honest and personal account of a life at the edge of the spotlight-a privileged vantage point that earned him a bit more objectivity and earnest outrage than a lot of his colleagues, who were too far into the scene to lay any honest witness to it. Set during the Greenwich Village folk/rock scene, the Sixties' most celebrated venues and concerts, and behind closed doors on international tours and grueling studio sessions. He had affairs with famous female folk singers, made love to Jim Morrison's girlfriend Pam when Jim was drunk and abusive, partied with Elizabeth Taylor and Groucho Marx, dined with Rudolf Nureyev, conversed with Martin Luther King, Jr. and Tennessee Williams, hung out with Andy Warhol, jammed with everyone from Mose Allison to Jimi Hendrix, and was told to get a haircut by both Mickey Spillane and Danny Thomas. This is the unlikely story of a rock star as nerd, nerd as rock star, a nice Jewish boy who got to sit at the cool kid's table and score the hot chicks.
Genres: