Bold: How to Be Brave in Business and Win
Unabridged Audiobook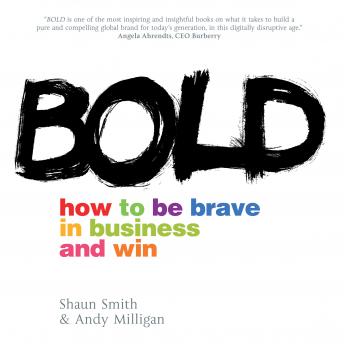 Duration:
10 hours 23 minutes
Summary:
In every industry, some brands stand out from the crowd because of their distinct way of doing things. These companies challenge conventional wisdom and industry norms to win in their markets. They see their customers and employees as members of a like-minded community, deliver unique and remarkable customer experiences, and are able to create an almost cult-like following around their brand.

BOLD is about 14 such businesses. They put purpose before profit, go beyond what customers expect, and relentlessly differentiate themselves from everyone else. They know no compromise and show no timidity. They are bold in thought and execution, and they measure their success in new ways.

BOLD includes revealing interviews with key executives that tell each brand's story in ways that capture the unique culture of each company. The 14 businesses represent an international "who's who" in consumer insight and engagement, and include Virgin Galactic, O2, Chilli Beans, Six Senses, Burberry, BBH, The Geek Squad, TNT, JCB, WWF and Umpqua.
Genres: