Boomsday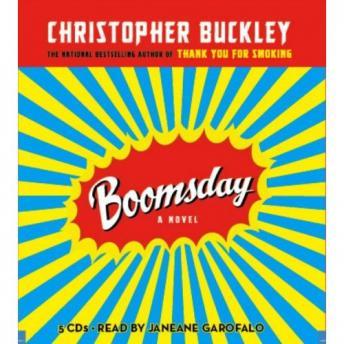 Duration:
6 hours 20 minutes
Summary:
In BOOMSDAY, Christopher Buckley envisions the nation's next brouhaha-generational warfare between Baby Boomers and younger Americans who don't want to be stuck paying the bill, and how this conflict provokes the most outlandish presidential campaign ever.
Cassandra Devine, a straight-A student, was like any other seventeen-year-old Yale hopeful until was forced to join the army because her father spent her tuition money on a dotcom start-up. Years later, Cassandra has become a Washington spin doctor and blogger who rails against the ""Un-greatest"" generation's mishandling of the Social Security debt. When she learns her father remarried and bought his dim-witted son's way into Yale, she suggests that Baby Boomers be given government incentives to kill themselves by age 75.
This proposal catches on with outraged citizens and a senator seeking the youth vote for his presidential bid. With the help of Washington's greatest PR strategist, Cassandra and the senator try to ride the issue of euthanasia to the White House. Their opposition includes the president, who's running for reelection; a pro-life preacher, who may have killed his mother; and, of course Baby Boomers.
Genres: