Born On A Blue Day: Inside the Extraordinary Mind of an Autistic Savant
Unabridged Audiobook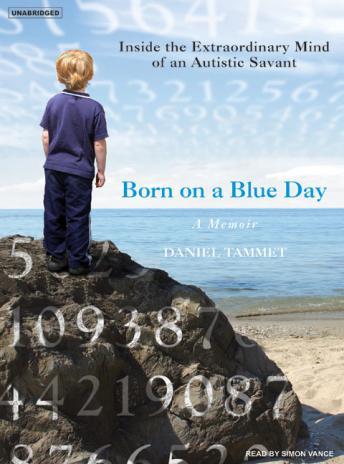 Duration:
6 hours 30 minutes
Summary:
One of the world's fifty living autistic savants is the first and only to tell his compelling and inspiring life story-and explain how his incredible mind works.

Worldwide, there are fewer than fifty living savants, those autistic individuals who can perform miraculous mental calculations or artistic feats (think Dustin Hoffman's character in Rain Man). Until now, none of them has ever been capable of discussing his or her thought processes, much less undertake the writing of a book. Daniel Tammet is the first.

From childhood, Tammet's problems were immediately apparent. He was shunned by his classmates and often resorted to rocking and humming quietly. Yet he could memorize almost anything, and his math and language skills were astonishing. By the time he entered high school, Daniel was diagnosed as autistic, and he began to discover his own superhuman abilities-calculating huge sums in his head in seconds, learning new languages in one week, and memorizing more than 22,000 digits of pi.

With heart-melting simplicity and astonishing self-awareness, Born on a Blue Day tells Daniel's story-from his childhood frustrations to adult triumphs-while explaining how his mind works. He thinks in pictures. He sees numbers as complex shapes; thirty-seven, for example, is lumpy like porridge, while eighty-nine reminds him of falling snow. Today, Daniel has emerged as one of the world's most fascinating minds and inspiring stories. While his brain has amazed scientists for years, everyone will be moved by this remarkable man's life story.
Genres:
1 of 1 people found this review helpful.