The Boston Stranglers
Unabridged Audiobook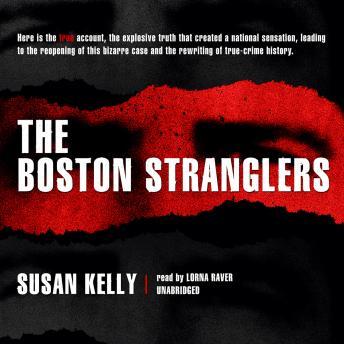 Duration:
15 hours 31 minutes
Summary:
Beginning in June, 1962, the Boston, Massachusetts, area was terrorized for eighteen months by an elusive serial killer who sexually assaulted and strangled to death a succession of women. Boasting that he was the killer and that he had raped an additional two thousand victims, Albert DeSalvo's horrific 'confession' became the subject of a bestselling book and a major Hollywood movie. But it was all a monstrous hoax: DeSalvo was not the Boston Strangler.

In the only definitive book on this subject, Susan Kelly's detailed investigation shows us the true DeSalvo, a twisted pathological liar whose hunger for celebrity made him confess to crimes he did not commit. Kelly also proves that the stranglings were committed by at least eight different slayers. She even names the lead suspects-some of whom may have been getting away with murder for decades.

Here is the true-crime account that created a national sensation, leading to the reopening of this bizarre case and the rewriting of true-crime history.
Genres: