The Bottom of the Sky: A Novel
Unabridged Audiobook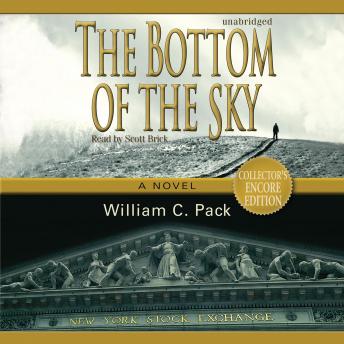 Duration:
21 hours 48 minutes
Summary:
Two abused children cling like paper in the rain, bleeding saneness and self. One lets go, only to discover the abuse Wall Street deals its Main Street clients is more cunning, if not more brutal, than that doled out at the end of a dirt road. One is stranded at the end of that road.
This is the three-decade saga of Levi and Lam Monroe.
The Bottom of the Sky is an aching rags-to-riches family saga that surges from rural squalor to the opulent power chambers of Wall Street and Silicon Valley. The story contrasts the thirty-year struggles of an abused sister and brother who seek to reclaim themselves from their abhorrent past. One is abandoned to a life of sexual desecration and addiction. The other escapes with his demons and wields his uncanny genius and unrelenting ambition to amass staggering wealth. Greed and betrayal drive a tense plot involving the FBI, the SEC, and billions of dollars fleeced from brokerage customers and shareholders, while isolation and envy lead to deadly confrontations back home. It is a riveting tale of two disparate worlds joined by one desperate man and his ultimate redemption.
Genres: