Breath: The New Science of a Lost Art
Unabridged Audiobook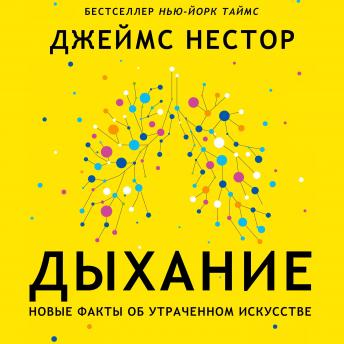 Duration:
8 hours 57 minutes
Language:
Russian
Summary:
A New York Times Bestseller

A Washington Post Notable Nonfiction Book of 2020

An Amazon Best Science Book of 2020

"Breath" is not merely an audiobook about our most basic biological function. It turns the conventional wisdom about breathing and explains how the billions of molecules getting into our body with each inhale become the building blocks for our bones, muscles, blood, brain, and organs, and how all these minor changes work upon our health and mood.

James Nestor – a journalist and researcher – tells a fascinating story about experimenting with his own breath and shares many practices he has tried. The author traveled the world to scientifically test common beliefs about how we breathe.

After listening to this audiobook, you will change your attitude to the process of breathing because you'll:

- get the basics of recovery breathing;

- learn how to use breathing to lower your heart rate, blood pressure, and stress level;

- learn how to stay calm and focused in tense situations;

- ensure that even minor changes in the breathing method can fast track sports results, rejuvenate internal organs, stop snoring, asthma, and autoimmune diseases.

There's more to come because at the end of the audiobook you will find an additional bonus – useful exercises and techniques to improve the efficiency of breathing!

After listening to this audiobook, you will never breathe the same way again!
Genres: