A Brilliant Idea Every 60 Seconds
Unabridged Audiobook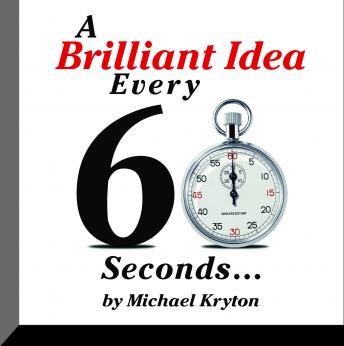 Duration:
6 hours 30 minutes
Summary:
A Brilliant Idea Every 60 Seconds introduces a tested ideation and creative thinking methodology developed over the author's 36-year career as a creative communications professional and ideation expert. This methodology and the associated tools are being applied in personal lives and professional careers, helping people connect to their individual way of operating creatively. This how-to book on ideation focuses an individual's creative lens and makes the process of generating ideas highly tangible. It is not simply about techniques; it is also about understanding a context of personal, individual creativity, which allows individuals to more fully understand and embrace the Brilliant ideation techniques.
Most importantly, it is about speed: generating ideas

right now!
The book is comprised of three components:
• Examining individual creativity: understanding the nature of your individual creative process: exploring how you think and operate creatively; understanding how others think and operate creatively; maximizing the way groups, teams and think tanks work together creatively and reach their creative potential;

• The ideation toolkit: understanding the nine Inherent Values (idea triggers) and how they work to generate Idea Strings and Actionable Ideas; the matrix of these Inherent Values makes the creative process and ideation tangible;

• Case studies: examining over 30 case studies ranging from advertising campaigns and live events to problem solving situations and innovative product development.
Genres: