Bringing Adam Home: The Abduction That Changed America
Unabridged Audiobook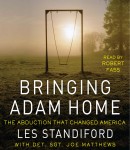 Duration:
9 hours 51 minutes
Summary:
"Les Standiford's account of the decades-long attempt to solve the murder of Adam Walsh is chilling, heartbreaking, hopeful, and as relentlessly suspenseful as anything I've ever read. A triumph in every way."
—Dennis Lehane, author of Mystic River

"The most significant missing child case since the Lindbergh's….A taut, compelling and often touching book about a long march to justice."
—Scott Turow, author of Presumed Innocent

The abduction that changed America forever, the 1981 kidnapping and murder of six-year-old Adam Walsh—son of John Walsh, host of the Fox TV series America's Most Wanted—in Hollywood, Florida, was a crime that went unsolved for a quarter of a century. Bringing Adam Home by author Les Standiford is a harrowing account of the terrible crime and its dramatic consequences, the emotional story of a father and mother's efforts to seek justice and resolve the loss of their child, and a compelling portrait of Miami Beach Homicide Detective Joe Matthews, whose unwavering dedication brought the Adam Walsh case to its resolution.
Genres: