Built from Scratch: How a Couple of Regular Guys Grew The Home Depot from Nothing to $30 Billion
Unabridged Audiobook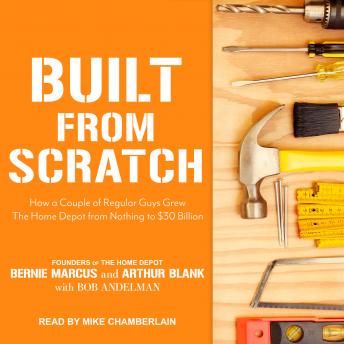 Duration:
11 hours 50 minutes
Summary:
When a friend told Bernie Marcus and Arthur Blank that 'you've just been hit in the ass by a golden horseshoe,' they thought he was crazy. After all, both had just been fired. What the friend, Ken Langone, meant was that they now had the opportunity to create the kind of wide-open warehouse store that would help spark a consumer revolution through low prices, excellent customer service, and wide availability of products.

Built from Scratch is the story of how two incredibly determined and creative people-and their associates-built a business from nothing to 761 stores and $30 billion in sales in a mere twenty years.

Built from Scratch tells many colorful stories associated with The Home Depot's founding and meteoric rise; shows that a company can be a tough, growth-oriented competitor and still maintain a high sense of responsibility to the community; and provides great lessons useful to people in any business, from start-ups to the Fortune 500.
Genres: