The Bulletproof Diet: Lose up to a Pound a Day, Reclaim Your Energy and Focus, and Upgrade Your Life
Unabridged Audiobook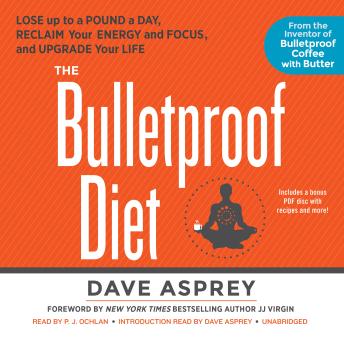 Duration:
9 hours 21 minutes
Summary:
In hismid-twenties, Dave Asprey was a successful Silicon Valley multimillionaire. Healso weighed three hundred pounds, despite the fact that he was doing what doctorsrecommended: eating 1,800 calories a day and working out ninety minutes a day, six times a week.
When hisexcess fat started causing brain fog and food cravings sapped his energy andwillpower, Asprey turned to the same hacking techniques that made his fortuneto "hack" his own biology, investing more than $300,000 and fifteen years touncover what was hindering his energy, performance, appearance, and happiness.From private brain EEG facilities to remote monasteries in Tibet, throughradioactive brain scans, blood chemistry work, nervous system testing, andmore, he explored traditional and alternative technologies to reach hisphysical and mental prime. The result? The Bulletproof Diet, ananti-inflammatory program for hunger-free, rapid weight loss, and peakperformance.
TheBulletproof Diet willchange what you think you know about weight loss and wellness. You will skipbreakfast, stop counting calories, eat a high-fat diet, work out and sleepless, and handle stress with ease. By ditching traditional "diet" thinking,Asprey has maintained a one hundred-pound weight loss, increased his IQ, and reached alevel of health that seemed unattainable. His forties are truly better than histwenties, and The Bulletproof Diet brings his best hacks to the masses.
Genres:
1 of 1 people found this review helpful.