Business At the Speed of Now: Fire Up Your People, Thrill Your Customers, and Crush Your Competitors
Unabridged Audiobook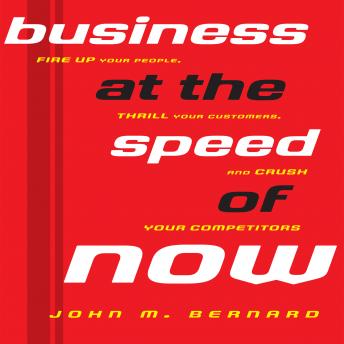 Duration:
6 hours 30 minutes
Summary:
At the start of the twenty-first century, we've witnessed a shift to a mass customization-driven economy, leaving behind a century focused on mass production. Customers have come to expect immediate and tailor-made responses to their needs, and the businesses that fail to deliver quickly fall behind. How fast does your business move? Are you doing business at the speed of NOW or trailing the pack at the speed of THEN?

Business at the Speed of Now outlines principles and practices that forward-thinking managers can use to enhance customer experience, reduce costs, and drive growth. Three major game changers have accelerated business today. Social media creates vast powerful communities by instantly connecting people inside and outside an organization. Cloud computing provides workers access to the resources they need to resolve issues the moment they arise. And the Millennial mindset demands that it all happens now. Business at the Speed of Now presents systematic advice on how to build an integrated, engaging, and transparent management system, enabled by cloud computing and internal social networks.

Use this comprehensive guide to create a NOW organization where everyone boldly pursues every opportunity every time.

Set your organization free from the old THEN management ways that no longer get the results you need. Adopt the new NOW management thinking and the state-of-the-art tools that will get your organization doing business at the speed of now.
Genres: