The Callahan Chronicals
Unabridged Audiobook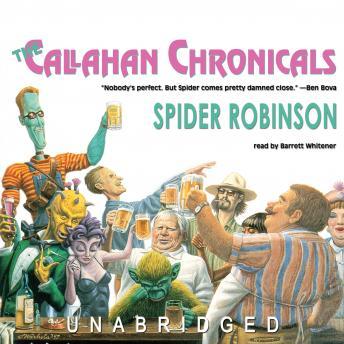 Duration:
16 hours 45 minutes
Summary:
This omnibus edition contains the trilogy of science fiction books that introduced the world to Mike Callahan and all of the regulars at Callahan's Place.
Callahan's Crosstime Saloonis the neighborhood tavern to all of time and space, where the regulars are anything but. These time travelers, talking dogs, alcoholic vampires, and cybernetic aliens really, truly care about each other. It's the rare kind of place where bad puns are as appreciated as good conversation.
Time Travelers Strictly Cash is their policy, but then again everybody pays cash at Callahan's. Lay your money on the bar, name your poison, step up to the line drawn on the barroom floor, and after drinking make a toast and throw the glass into the fireplace. It's an odd tradition but one that's led to some interesting stories. And don't worry about the cost—Callahan gets his glasses at bulk discount.
Callahan's Secret may be one that nobody—not even the regulars—would guess, or it may be as simple as listening to all those post-toast stories. After all, shared pain is lessened and shared joy is increased—a simple concept that could, after a few drinks, lead to saving the world.
Genres: