Can You Keep a Secret?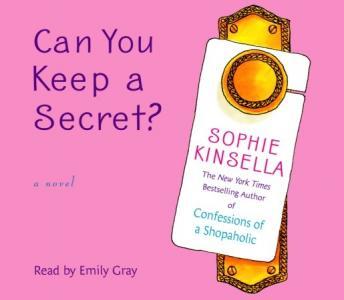 Duration:
6 hours 7 minutes
Summary:
NOW A MAJOR MOTION PICTURE • From the #1 New York Times bestselling author of The Party Crasher and Love Your Life comes a novel with the same wicked humor, buoyant charm, and optimism as her beloved Shopaholic series.

"Sophie Kinsella keeps her finger on the cultural pulse, while leaving me giddy with laughter."—Jojo Moyes, author of The Giver of Stars and The Last Letter from Your Lover

Meet Emma Corrigan, a young woman with a huge heart, an irrepressible spirit, and a few little secrets:
 
Secrets from her boyfriend: I've always thought Connor looks a bit like Ken. As in Barbie and Ken.
 
Secrets from her mother: I lost my virginity in the spare bedroom with Danny Nussbaum while Mum and Dad were downstairs watching Ben-Hur.
 
Secrets she wouldn't share with anyone in the world: I have no idea what NATO stands for. Or even what it is.
 
Until she spills them all to a handsome stranger on a plane. At least, she thought he was a stranger. . . .
 
But come Monday morning, Emma's office is abuzz about the arrival of Jack Harper, the company's elusive CEO.  Suddenly Emma is face-to-face with the stranger from the plane, a man who knows every single humiliating detail about her. Things couldn't possibly get worse. Or could they?
 
Praise for Can You Keep a Secret?
 
"Venturing beyond Saks and Barney's, the bestselling author of Confessions of a Shopaholic and Shopaholic Ties the Knot entertains readers with backstabbing office shenanigans, competition, scandal, love and sex. . . . Kinsella's down-to-earth protagonist is sure to have readers sympathizing and doubled over in laughter."—Publishers Weekly

"If laughing out loud in public places is your bag, be sure to pick up [Can You Keep a Secret?]. Heroine Emma Corrigan is going to be your new best friend."—Boston Herald
 
"Kinsella's timing is so perfect, her instincts so spot-on, that it's easy to . . . devour the book like the guilty pleasure it is."—Miami Herald

"Chick lit at its lightest and breeziest . . . filled with fabulous clothes, stalwart friends, and snotty enemies waiting to be taken down a peg."—Orlando Sentinel

"[Kinsella's] dialogue is sharp, even her minor characters are well drawn, and her parody of the marketing world is very funny."—Washington Post Book World

"[A] comedic frenzy of ill-fated events . . . punchy . . . fast-moving."—Rocky Mountain News
Genres:
1 of 1 people found this review helpful.