Cancer Cabbie Chronicles
Unabridged Audiobook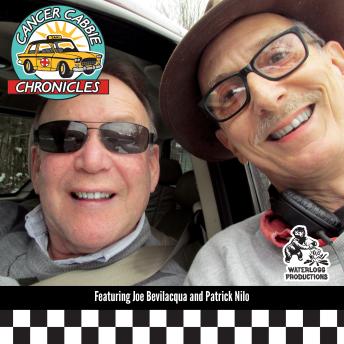 Duration:
4 hours 24 minutes
Summary:
A diagnosis of cancer is never welcomed by anyone. But for veteran radio producer Joe Bevilacqua, his diagnosis had a silver lining. He struck up an unexpected friendship with the cab driver who took him to his radiation treatments, a Chilean immigrant named Patrick Nilo (owner of CJ Cabs, Ellenville, New York) who came to the United States in 1973. We go for a ride with them.
This intimate audio verite conveys a candid realism that will make listeners feel as if they are in the cab with Joe and Patrick as they share the very personal stories of their lives. It was recorded in November and December 2014 by Joe during one-hour cab rides from his home in Napanoch to the Dyson Center for Cancer Care in Poughkeepsie, New York, and back again.
'As I told Patrick during one of our cab rides, I feel like getting cancer was my lucky charm. I met so many new people and had so many new experiences that have made me a better person. Patrick has called me 'a winner' and has encouraged me to get my positive story out to the world,' reveals Joe Bev.
Joe Bev completed his prostate cancer treatments on December 1, 2014, with a clean bill of health after forty-eight radiation treatments. A brief collage of his cab ride recordings was broadcast on National Public Radio's Latino USA on March 13, 2015.
Bonus Tracks: Also included in this set is an interview with Joe Bevilacqua, conducted by Steve Mendoza.
Genres: