Canyons, Caravans, & Cadavers
Unabridged Audiobook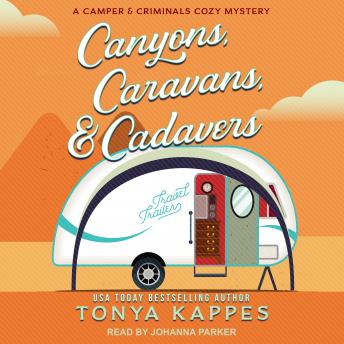 Duration:
4 hours 16 minutes
Summary:
Welcome to Normal, Kentucky-where nothing is normal.

When the principal of Normal High School asks Mae West to teach a semester on small town economics, since she helped bring the thriving economy in Normal, Kentucky, when she used her brilliant ideas to bring the Happy Trails Campground back to life, Mae is thrilled and happy to teach the young people.

But when a fellow teacher and archery Coach Roger Carlson, is found stone-cold dead, facedown in one of Happy Trails Campground campers with an arrow sticking out of his back, it puts a damper on Mae's excitement to teach.

Mae's hankering to snoop into the coach's private life and find out exactly why he was renting a camper in Happy Trails and not living at home with his young wife. Her efforts don't leave her short on suspects. Especially since Mae uncovered many unhappy parents who had relied on an archery scholarship and perfect ACT scores as their child's ticket to get out of Normal and go to college.

Mae has to be careful or she just might find an arrow with her name written on it.
Genres: