Car Buying Tips: Everything You Need to Know About Buying a New or Used Car in 2020
A free trial credit cannot be used on this title.
Unabridged Audiobook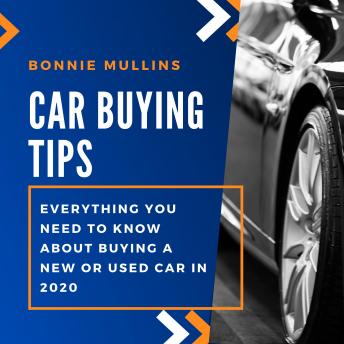 Duration:
0 hours 28 minutes
Summary:
You may have some idea about how much money you want to spend on your next vehicle purchase. Most people do. They sit down at the kitchen table and take a look at their budget, their available funds, and other expenditures, and they come up with an overall ballpark figure they are not trying to exceed.

This is a good idea because it doesn't let you get into trouble purchasing something you eventually cannot afford. Buying above your means might mean you have a gorgeous new ride in your driveway, but the feeling that it gives you can quickly turn sour when the repo man shows up.

In this audiobook you will learn the following:

– 5 Car Buying Apps That Can Save You a Bundle of Money

– Buy a Used Car Online to Save Money and Time

– Buying a Car? Talk as Little as Possible to Get the Best Price

– Getting the Best Price on a Car – Don't Let the Numbers Fool You

– Getting Value When Buying a Car Means Always Being in Buying Mode

– Keep Hush-Hush about Deals and Incentives to Get the Best Car Price

– Know Your Trade-In Value and Negotiate it Separately from Your Vehicle Purchase Price

– Shop at the Right Time to Get the Best Price on a Car

– Smart Car Buyers Know Which Fees to Negotiate

– What You Need to Know to Save Money When You Buy Your Next Used Car

Enjoy this short listen and learn more about buying cars the right way in 2020. See you on the inside.
Genres: