Carrie and the Stranger.: Young Woman's Erotic Diary Six
A free trial credit cannot be used on this title.
Unabridged Audiobook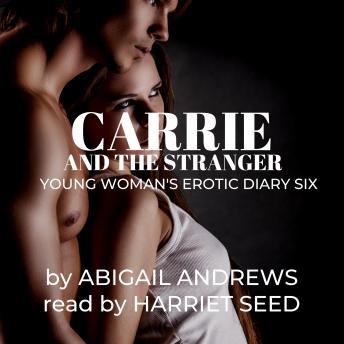 Duration:
0 hours 36 minutes
Summary:
This is an episode from the diary of Carrie White who is a sexually liberated girl, living in London and working as a camgirl, in a lap dance club and as an escort between doing promotional work. She is 26 years old and has an occasional relationship with Tim who works in finance in the City of London. She has a friend, Gwen who sometimes joins her on her sexual adventures. Carrie takes a two week break in Spain, where she often enjoys weekend breaks during the rest of the year for sun top-up and to relax.
She is enjoying he first week alone until Gwen joins her for the second week. Carrie, of course, finds a new sexual adventure almost every day and in this episode she is still travelling from London when she spies a good looking guy. Her mobile phone falls out of her pocket as they reach the airport to fly to Spain. The guy chases after her to return it. She spies him again on the plane and finally can't believe her luck when she meets him in the hotel she is staying at. Will Carrie enjoy more than a drink with the stranger? This is an erotic story, not suitable for those under 18 who might be offended by graphic sexual descriptions.
Genres: