Carter's Flame: A Rescue 4 Novel
Unabridged Audiobook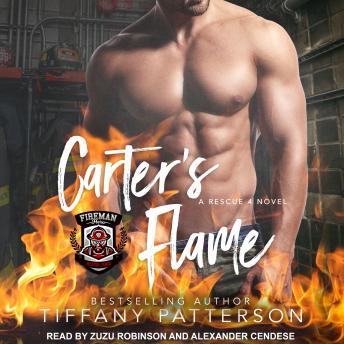 Duration:
8 hours 27 minutes
Summary:
I was born into a world of wealth and privilege. My birthright was to be at the helm of one of the world's leading energy companies. But that wasn't my purpose in life. Sitting behind a desk of a fortune 500 isn't what gets me going. No. It took me years to find my true purpose. Saving lives. Walking into the depths of hell to pull out survivors. It's what gets me out of my bed in the morning, and eventually, it's what led me to her.

On a day that, to her, must've seemed like the wrong place and wrong time, is where I met my destiny. Michelle Clarke. Our worlds collided and I knew instantly that she was mine. Everything in my life up until this point has been preparing me for her. My childhood. The eight years I spent in special forces. And the last six years spent as a proud member of the Williamsport Fire Department's Rescue 4 squad. All of it was preparation for her. And nothing, not her reluctance, not my brother, and not even her son's father will stand in the way of what belongs to me. My job is to rescue people and put out fires, but I will set anyone who stands in our way, ablaze. I will happily pour the gasoline and light the match and set all of this shit aflame, just to ensure she is where she belongs . . . with me.

Contains mature themes.
Genres: