Carved in Sand: When Attention Fails and Memory Fades in Midlife
Unabridged Audiobook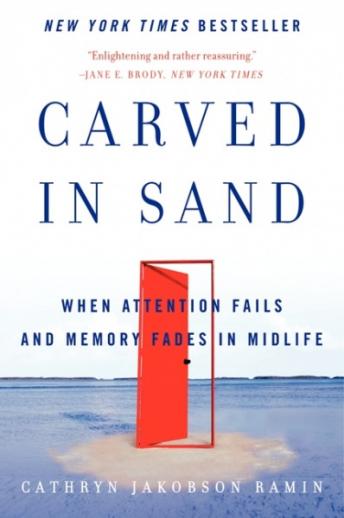 Duration:
11 hours 1 minutes
Summary:
Acclaimed journalist Cathryn Jakobson Ramin takes readers on a lively journey to explain what happens to memory and attention in middle age.

Anyone older than forty knows that forgetfulness can be unnerving, frustrating, and sometimes terrifying. With compassion and humor, Jakobson Ramin sets out to discover what midlife forgetfulness is all about—from the perspectives of physiology, psychology, and sociology. Relentless in her search for answers to questions about her own unreliable memory, she explores the factors that determine how well—or poorly—one's brain will age. She consults experts in the fields of sleep, stress, traumatic brain injury, hormones, genetics, and dementia, as well as specialists in nutrition, cognitive psychology, and the burgeoning field of drug-based cognitive enhancement. The landscape of the midlife brain is not what you might think, and to understand its strengths and weaknesses turns out to be the best way to cope.

A groundbreaking work that represents the best of narrative nonfiction, this is a timely, highly readable, and much-needed book for anyone whose memory is not what it used to be.
Genres: