Cattle Kate: The Controversial Life and Legend of the Wyoming Territory's Most Famous Woman Outlaw
A free trial credit cannot be used on this title.
Unabridged Audiobook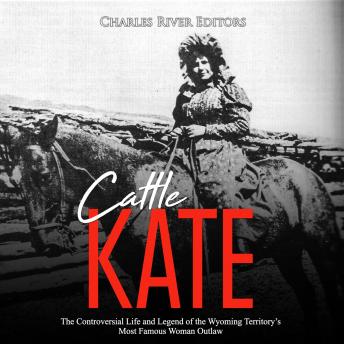 Duration:
1 hours 28 minutes
Summary:
In the span of scarcely more than a half century, the West developed from a handful of scattered fur trapping enterprises predominantly inhabited by males to a region full of burgeoning rustic communities, and before the government's official "closure" of the frontier as a lawless expanse, Western societies were essentially living apart from traditional American rule of law. What judicial structures were at work across the West were erratic, often willing to exercise extremes without evidential justification, and manipulated by major corporate interests of the day, most notably cattle.

The demand for choice land involved not only quantity of acreage, but controlled access to lakes, rivers, springs, creeks, wells, and unimpeded routes for cattle drives. In holding property rights to the smallest stretch of flowing water, the simple homesteader could create considerable peril for a vast, lucrative cattle enterprise. In the reverse, a settler could be driven off his land by the withholding of streams through specific property management, and by the destruction wrought by ravenous and unchecked herds.

Many such conflicts ended in violence between business and personal interests. On July 20, 1889 in the Wyoming Territory, in an unbridled display of vigilantism, a group of powerful cattle magnates and their hired hands executed a pair of homesteaders perceived as intruders seeking land they did not deserve. In turn, they dared the region's pallid legal system to confront them over the matter. The shock of this specific event, still a subject of interest in the range country, marked the first and last illegal hanging of a female in the Wyoming country.
Genres: