Celebrated Crimes, Book 18: La Marquise de Ganges
Unabridged Audiobook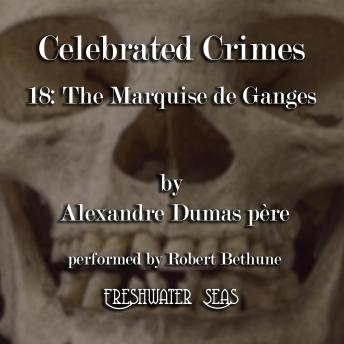 Duration:
2 hours 12 minutes
Summary:
To paraphrase the note from the translator, The Celebrated Crimes of Alexandre Dumas père was not

written for children. The novelist has spared no language—has minced no words—to describe violent

scenes of violent times.

In this, the eighteenth of the series, Dumas explores the history of a famous French aristocratic

family: that of Marie de Rossan, also known as Diane de Joannis de Roussan and as Anne-Elisabeth De

Rossan, but in any case the Marquise de Ganges and La Belle Belle Provençale: often described as the

most beautiful woman of her time. It was, indeed, her beauty that undid her. After the death of her

first husband, she heard of the Marquis de Gange; she heard of him as the handsomest man in France,

and she could not resist the urge to meet him. They met, they married, and the rest is history--

bloody, violent and terrible history, completely opposite to the sweet romance with which it began.

Dumas tells her story in full, and also takes us through the tales of her husband, her children, and

the men who murdered her--and that group may include her husband as well.

Dumas may have collaborated on this, as he frequently did in his works, with other writers.

Nevertheless, it is clearly Dumas who has the final say on this work, as with all the other works in

this series.

Enjoy!
A Freshwater Seas production.
Genres: