Cerberus MC Box Set 1
Unabridged Audiobook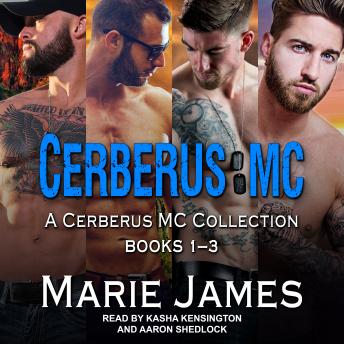 Duration:
27 hours 52 minutes
Summary:
Kincaid: Hero complex? Possessive? Not afraid to speak my mind? Check, check, and check. I'm also president of the Cerberus MC, a former Marine, and Emmalyn Mikaelson doesn't have a clue what she's gotten herself into by jumping on the back of my bike.

Kid: I fell in love with an underaged girl. The day we met she downed a bottle of pills and tried to jump off a bridge. I could go into detail, give you the nitty gritty, but I'm worried the details won't matter when you find out just how badly I messed everything up . . .

Shadow: I'm no stranger to a woman warming my bed. What's new for me is being the one ghosted. So imagine my surprise when the girl who decided I wasn't enough shows up on my doorstep burdened with the consequences of her own lies and deceit.

Sindicate: The civilian world is supposed to be easy after fighting in a war. Taking acting classes while also working as a personal trainer, I keep myself pretty busy. I'm focused, homed in on my goals, but there's no way not to be distracted by Aviana Maguire. There's something about her standoffish demeanor that makes curious. When she disappears, like she never even existed, I'm forced into action.

Contains mature themes.
Genres: