Cerberus MC Box Set 2
Unabridged Audiobook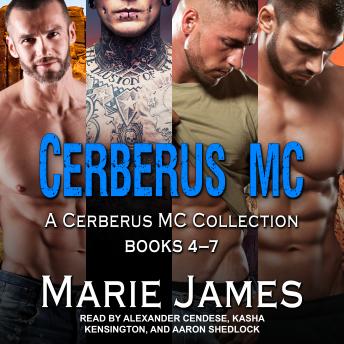 Duration:
30 hours 12 minutes
Summary:
Dominic: One day she's standing on my porch, and the next she's being held a prisoner in my house. I know why I said yes when she asked for help. Now, preventing the war she started when she arrived, that's the easy part.

Snatch: I've always been a connoisseur of the opposite sex. That became abundantly clear the night my best friend took me in his mouth. Sure, there'd been close calls before, the slip of a hand or misplaced lips. That fateful night, I was met with pure intention and an experience I never want to forget. Falling for a friend has never been so complicated.

Lawson: My plan was as simple as they come . . . in theory. Show up at the Cerberus clubhouse and give dear old Dad a piece of my mind. Delilah Donovan was a breath of fresh air. But no matter how much I changed, she'd always be too good for a man like me.

Hound: The moment I realized the blonde I was hunting wasn't around, I ended up captivated by a redhead dancing on the stage. When I learned that she WAS the job, everything became clouded. I was only looking for a one night stand, but when the dust settled and she ran, my only desire was to chase her. Would she even stay if I caught her?

Contains mature themes.
Genres: