Charles Paris: The Cinderella Killer: A BBC Radio 4 full-cast dramatisation
Abridged Audiobook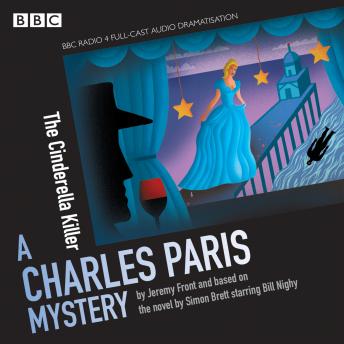 Duration:
2 hours 0 minutes
Summary:
Charles Paris returns in this BBC Radio 4 full-cast dramatisation of Simon Brett's humorous theatrical mystery, starring Bill Nighy.

A job in pantomime seems the perfect way to spend the Christmas season for Charles, but the cast of Cinderella are a motley crew from reality TV and Charles finds himself having to explain the traditions of panto to their baffled American star whose career is on a downward trajectory.

When the star is shot dead, and Charles finds the body, he finds himself under suspicion. As the slapstick makes way for a murder investigation, he decides to clear his name by doing some sleuthing of his own. With a host of suspects and the body count rising, the line 'they're behind you' soon begins to take on a very sinister meaning indeed...

Bill Nighy (Love Actually, Skylight, The Best Exotic Marigold Hotel) stars as Charles Paris, with Suzanne Burden as his wife Frances, in this funny and fast-paced dramatisation by Jeremy Front.

Written by Jeremy Front, based on the novel by Simon Brett.
Genres: