Chemistry for Breakfast: The Amazing Science of Everyday Life
Unabridged Audiobook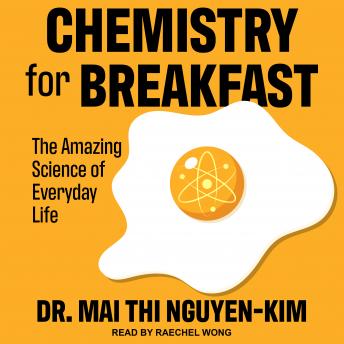 Duration:
5 hours 34 minutes
Summary:
Have you ever wondered why your alarm clock sends you spiraling? Or how toothpaste works on your teeth? Why do cakes and cookies sometimes turn out dry? (Hint: you may not be adding enough sugar.) In Chemistry for Breakfast, award-winning chemist and science communicator Mai Thi Nguyen-Kim reveals the amazing chemistry behind everyday things (like baking and toothpaste) and not-so-everyday things (like space travel). With a relatable, funny, and conversational style, she explains essential chemical processes everyone should know-and turns the ordinary into extraordinary.

Over the course of a single day, Mai shows us that chemistry is everywhere: we just have to look for it. In the morning, her partner's much-too-loud alarm prompts a deep dive into biological clocks, fight-or-flight responses, and melatonin's role in making us sleepy. Before heading to the lab, she explains how the stress hormone cortisol helps wake us up, and brews her morning coffee with a side of heat conduction and states of matter.

Filled with laughter and plenty of surprises, Chemistry for Breakfast is a perfect book for anyone who wants to deepen their understanding of chemistry without having prior knowledge of the science. With Mai as your guide, you'll find something fascinating everywhere around you.
Genres: