Christian Affirmations against Anxiety: Stop anxiety, panic attacks, overcome depression, instantly start to renew your mind with Christian based affirmations focused on godly peace and love
A free trial credit cannot be used on this title.
Unabridged Audiobook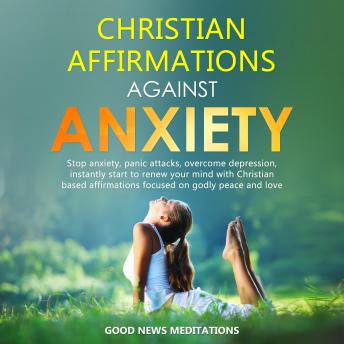 Duration:
3 hours 2 minutes
Summary:
Do you want more peace in your life? Do you want to replace those negative and stressful thoughts bringing anxiety in your life by thoughts of peace, calm and general well-being? Then keep scrolling.

Nobody should have to live their life stressed, depressed and afraid of the unknown. Isaiah 26:3 mentions He will keep in perfect peace the one whose mind is stayed on Him. The key is feeding your mind with the Word of God along with speaking out the Word in order to change your perspective on life.

We are personalizing the Word of God so that you can use the Word in a practical way, a way which personally applies to your life and to your circumstances. This audiobook contains more than 100 affirmations, declarations and meditations repeated over three hours to transform your thoughts, your mind and ultimately your life. Listen to these affirmations but most importantly repeat some of them on a daily basis and see how your life will start to reflect the peace of God as you start entering God's rest through faith.

In this audiobook, you will find affirmations such as:

1.     Heart, be still and know and Jesus is God.

2.     The peace of God reassures my heart.

3.     My soul is quiet and at rest in Christ.

4.     My tongue is a tree of life and I use to shape my life and to remain in peace.

5.     The peace of God is ruling in my heart right now and I am thankful for this.

 

If you're ready to start meditating on God's Word to help reduce anxiety and fear, then scroll up and select the 'Add to Cart' button.
Genres: