A Christmas Carol
Unabridged Audiobook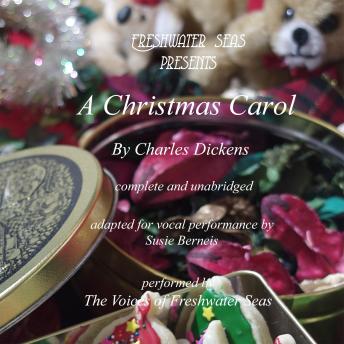 Duration:
2 hours 52 minutes
Summary:
"There is no doubt that Marley was dead. This must be distinctly understood, or nothing wonderful can come of the story I am going to relate."

This presentation of the beloved tale tells he classic story of the long night Ebenezer Scrooge spend with the ghosts of Christmas, the lessons it taught him, the change it made in his life, and the joy it brought to him and all who knew him. It tells the story the way Dickens wrote it, including scenes and descriptions other versions skip over.

On this recording, the story is not merely read, it comes alive in voices and music. It is fully performed by The Voices of Freshwater Seas, a large group of skilled actors, underscored with arrangements of over a dozen different seasonal songs and carols and enhanced with both seasonal and ghostly sound effects.

Two narrators trade voices back and forth in the beginning, then one voices performs the passages where Scrooge is communing with the Ghosts of Christmas Past, Present and Future, and theother performs the parts where things are going on in the real world--or at least the real world as you and I know it! All the major speaking roles are performed by a full cast of wonderful voices for all the characters. You're sure to get a kick out of them!

In addition to a full cast of voices, there is also a full musical underscoring from The Tintinnabulum Project performed on many kinds of melodic percussion. The bells of Christmas, and the chimes as well, have never rung out so sweetly as they do here, enriching and accompanying Dicken's words.

A Freshwater Seas production.
Genres: