Classic BBC Radio Shakespeare: Tragedies: Hamlet; Macbeth; Romeo and Juliet
Unabridged Audiobook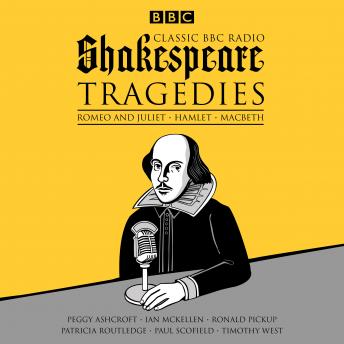 Duration:
7 hours 30 minutes
Summary:
Three powerful radio productions from the BBC archives starring Ian McKellen, Ronald Pickup and Paul Scofield and a host of celebrated acting talent . These three legendary plays, performed by some of the best-known theatrical actors of the 20th Century, are the perfect way to commemorate England's greatest dramatist.

Romeo and Juliet: The Montagues and the Capulets are sworn enemies, so when Romeo Montague falls in love with Juliet Capulet, tragedy ensues. This fateful tale of two young star-crossed lovers isone of Shakespeare's most popular dramas. First broadcast in 1970, starring Ian McKellen as Romeo.

Hamlet: One of the most powerful, influential and thrilling tragedies in the English language, and the story of Prince Hamlet and his quest for vengeance never fails to enthral. First broadcast in 1971, starring Ronald Pickup as the Prince of Denmark.

Macbeth: The notorious 'Scottish Play' is a gripping tale of vaulting ambition, witchcraft, madness and murder that has kept generations of audiences spellbound. First broadcast in 1966,starring Paul Scofield as Macbeth and Peggy Ashcroft as Lady Macbeth.

Recorded at BBC Broadcasting House and featuring the BBC Drama Repertory company, with specially composed music including a score from the BBC Radiophonic Workshop, this is classic radio drama at its finest. Duration: 7 hours 30 mins approx.
Genres: