The Closer You Come
Unabridged Audiobook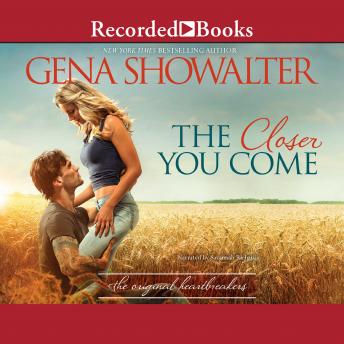 Duration:
13 hours 49 minutes
Summary:
New York Times bestselling author Gena Showalter introduces the Original Heartbreakers, where three not-quite-reformed bad boys are about to meet the women who will bring them to their knees. Just released from prison, Jase Hollister has only one goal: stay out of trouble. Strawberry Valley, Oklahoma, sounds like the perfect place for him and his two brothers-by-circumstance to settle down and live a nice, simple life. Model citizen isn't exactly this rugged bachelor's default setting-especially when it comes to a certain hot-blooded Southern beauty-but he's determined to play by the rules. Brook Lynn Dillon has always been the responsible type. Not that it's done her much good. The down-on-her-luck waitress is broke, single and wouldn't know fun if it bit her. Or so she thinks. Jase makes bad look oh, so good. Dangerous, sexy and tempting as sin, he is everything she never knew she wanted. Passion sizzles between them, but is it enough to melt his resistance? After all, the right kind of trouble might be just what he needs.
Genres:
1 of 1 people found this review helpful.

1 of 1 people found this review helpful.