Clutches and Curses
Unabridged Audiobook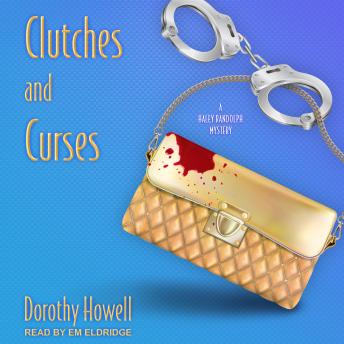 Duration:
9 hours 21 minutes
Summary:
From USA Today bestselling author Dorothy Howell: An irate customer and a business trip to Vegas turn a fashion-forward sleuth into a prime suspect for murder . . .

Life is looking good for amateur sleuth/professional fashionista Haley Randolph. She's even close to getting her hands on the Delicious, the season's hottest purse-until she's hit with a curse from an irate customer at Holt's department store. When things start to go really wrong, Haley transfers to the new store near Las Vegas-and promptly finds the body of Courtney Collins, an old classmate, sprawled across the floor of the menswear department. Now Haley is suspect #1.

Everyone knows Haley was once jealous of Courtney, and Courtney was about to launch a spectacular line of designer bags. And, well, there weren't any witnesses when Haley actually found the body. Since she doesn't look good in prison stripes, Haley will have to get to the bottom of this mystery. Finding the killer won't be easy . . . and getting rid of this curse may mean going against everything a real fashionista stands for . . .
Genres: