Codependency: Jealousy, Healing, and Getting Back Together
A free trial credit cannot be used on this title.
Unabridged Audiobook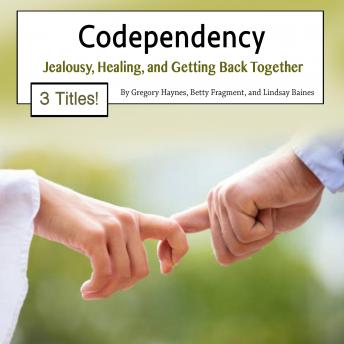 Duration:
2 hours 24 minutes
Summary:
These 3 titles are included in this book bundle:



Book 1: How do you get over a breakup? It may sound simple when you hear about all kinds of tips, but it's never easy. Everyone who has gone through it, knows that.


However, sometimes, relationships have erroneously been broken. Partners may have still been able to turn it into something that was right for the both of them. Perhaps they were compatible after all, but there was miscommunication or some other problem that caused.





Book 2: Co-dependent relationships can be quite the challenge. Many people are in one, even though they don't realize it. It typically consists of a couple enabling each other or manipulating each other, and individuals who lack self-esteem. Or they might have a feeling that the relationship is all they need or will satisfy all their needs. Often, it is based on a lie or a learned pattern from their childhood.




Book 3: Jealousy can be real, and it can be annoying. I think everyone has experienced feelings of jealousy in their lives. It's normal, but if it isn't dealt with, it can cause more problems to occur.
Genres: