Collision 2012: Obama vs. Romney and the Future of Elections in America
Unabridged Audiobook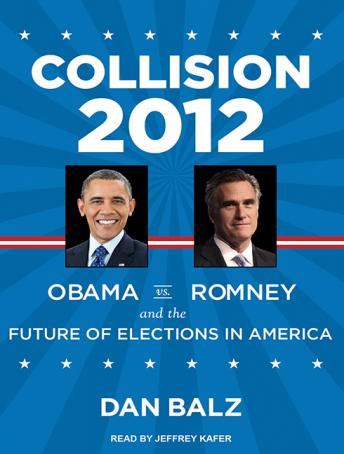 Duration:
15 hours 18 minutes
Summary:
Four years ago, a bright young presidential candidate named Barack Obama campaigned on a theme of hope and change, and made history. Today, he finds himself in another bitter, divisive presidential race but without the buzzwords. Instead, an embattled president struggles with a dysfunctionally divided Congress, a controversial healthcare bill, a decade-long war, and a stagnant economy.

Obama's Republican challenger, Mitt Romney, former corporate tycoon and former governor of Massachusetts, faces his own controversies in the form of vague policies, fluctuating positions, and questions about his business practices in the private sector. Romney's personal fortune and business background seemed at odds with the Republican base until he named Wisconsin congressman, Tea Party darling, and fiscal conservative Paul Ryan as his running mate.

Using sources deep inside both campaigns and on the campaign trail through primary and battleground states, Washington Post correspondent Dan Balz writes with a keen political mind and a seasoned reporter's ear. He traces the highs and lows of the Obama presidency as well as the ruthless Republican primary as both laid the groundwork for one of the most crucial, contentious elections of our time. Collision 2012 puts the race for the White House in context and explores just what the election means for the future of the democratic process and America.
Genres: