Combo Prospecting
Unabridged Audiobook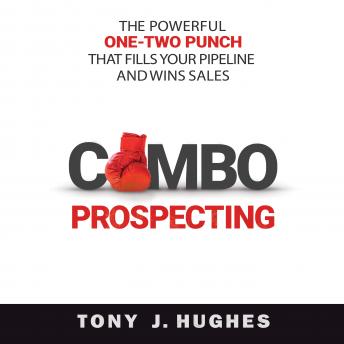 Duration:
8 hours 7 minutes
Summary:
In our era of information overload, it's harder than ever to break through to C-level decision makers who are already bombarded with "digital outreach." Use only email and social media, and you'll hit a brick wall. On the other hand, relying simply on cold-calling is a thing of the past. To connect with these impossible-to-reach executive buyers, you need to be bold but smart, using powerful strategies that combine proven, old-school values with new-school techniques. You need COMBO Prospecting - finally, the funnel prequel to SPIN Selling and The Challenger Sale.

An internationally respected sales leader and widely read business blogger, Tony Hughes has written an invaluable handbook for 21st-century sales professionals and entrepreneurs that's filled with specific approaches for achieving success. His potent COMBOs will help you gain access to top-level prospects in order to secure meetings and ultimately make the sale.

Tony's practical strategies will enable you to:
Master deep-dive research using LinkedIn and other social media platforms • Create an effective value narrative with powerful scripts and templates • Select and use the very best sales enablement tools for success • Identify "trigger events" and optimize referrals to create engagement • Nurture a strong and empowering network that helps you thrive • Construct an online brand that really packs a punch • and more.

Today, commoditization, automation, and AI technology threaten every salesperson's livelihood. Utilizing Tony Hughes' unique process is a sure way to drive success. When you're willing to make dramatic changes in how you operate - if you embrace what technology has to offer and combine it with intelligent human engagement - you can create a quality top-of-the-funnel sales pipeline.

COMBO Prospecting is your essential guide to strategic selling in the real world - a gold mine of insights and actionable wisdom so you can break through and operate at the very top of your game.
Genres: