Comeback: Conservatism That Can Win Again
Unabridged Audiobook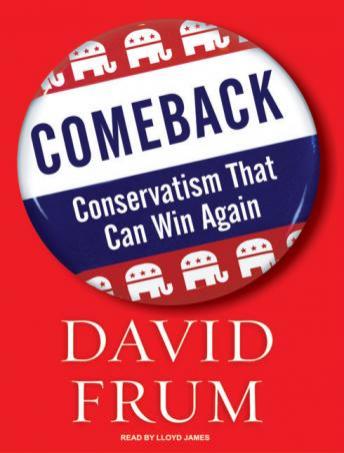 Duration:
5 hours 30 minutes
Summary:
At a moment of crisis and pessimism for American conservatives, David Frum offers fresh ideas-and fresh hope.

Not in a generation has conservatism been in as much trouble as it is at the end of the Bush years. A majority of Americans say the country is 'on the wrong track.' Voters prefer Democrats over Republicans on almost every issue, including taxes. The married, the middle-class, the native-born are dwindling as a share of the population, while Democratic blocs are rising. A generation of young people has turned its back on the Republican party.

Too many conservatives and Republicans have shut their eyes to negative trends. David Frum offers answers.

Frum says that the ideas that won elections for conservatives in the 1980s have done their job. Republicans can no longer win elections on taxes, guns, and promises to restore traditional values. It's time now for a new approach, including:

-A conservative commitment to making private-sector health insurance available to every American

-Lower taxes on savings and investment financed by higher taxes on energy and pollution

-Federal policies to encourage larger families

-Major reductions in unskilled immigration

-A genuinely compassionate conservatism, including a conservative campaign for prison reform and government action against the public health disaster of obesity

-A new conservative environmentalism that promotes nuclear power in place of coal and oil

-Higher ethical standards inside the conservative movement and the Republican party

-A renewed commitment to expand and rebuild the armed forces of the United States-to crush terrorism-and get ready for the coming challenge from China.

Frum's previous bestselling books have earned accolades for their courage and creativity from liberals and conservatives alike. Today, with the conservative movement and the Republican Party facing their greatest danger since Watergate, Frum has again stepped forward with new ideas to take conservatism-and America-into a new century of greatness.
Genres: