Comedy-O-Rama Variety Pack Too!: More Audio Theater from Joe Bevilacqua and Lorie Kellogg
Unabridged Audiobook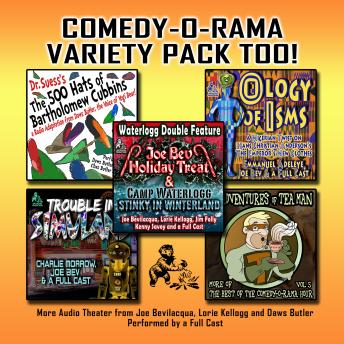 Duration:
5 hours 58 minutes
Summary:
This collection features five audio programs.
1. A Waterlogg Double Feature
The Joe Bev Holiday Treat is a compilation of Christmas themed stories-some true, some not-hosted by veteran public radio producer Joe Bevilacqua. Stories include 'Sleepy Santa,' 'The Christmas I Saved Macy's,' 'Sherlock Holmes' Creepy Christmas in Scotland,' 'A Rockabilly Christmas,' and 'Willoughby and the Professor Spend Christmas in the Middle East.'
The Camp Waterlogg Summer Freeze Special: Stinky in Winterland is The Wizard of Oz meets The Little Rascals when a freak summer blizzard hits Camp Waterlogg, leaving poor arts and crafts counselor Olive Pitts, Sgt. Left, Chef Ron, Rasta-Lasta, and twenty-seven camp kids trapped in the Abner Bibberman Memorial Barn.
2. The Adventures of Tea Man: More of The Best of the Comedy-O-Rama Hour, Vol. 5
Like a Jay Ward cartoon in audio, this is a hilarious, wacky collection of radio theater, written and performed by Mitchell Pearson and the DQD Theater of Philadelphia.
3. The 500 Hats of Bartholomew Cubbins: A Radio Adaptation from the Voice of Yogi Bear
This never-before-released recording of a Dr. Seuss story, dramatized by Daws Butler, is performed by Daws and his sons Chas and Don. It was produced by Joe Bevilacqua, who talks with Daws' sons before the play.
4. The Ology of Isms: A Nigerian Twist on The Emperor's New Clothes
Emmanuel Adeleye was born in Nigeria and worked as a playwright, actor, and artist before coming to the United States, where he studied theater. In 1981 he teamed with Joe Bev to produce his first radio play ever presented in the United States, The Ology of Isms.
5. Trouble in Simuland: A Joe Bev Audio Theater
This comic futuristic nightmare finds Ned Nardly using his new theme park for his own evil purposes. Featuring a full cast, produced with sound effects and music by Joe Bevilacqua, this radio play has aired on radio stations and podcasts worldwide. BONUS: Includes episode one of Joe Bev's Willoughby and the Professor.
Genres: