The Comedy of Errors
Unabridged Audiobook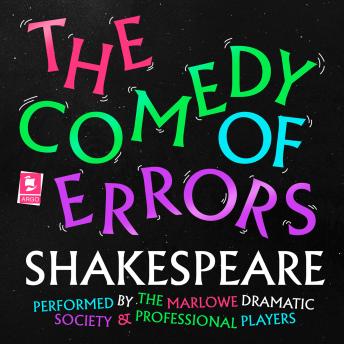 Duration:
1 hours 29 minutes
Summary:
William Collins Books and Decca Records are proud to present ARGO Classics, a historic catalogue of classic prose and verse read by some of the world's most renowned voices. Originally released as vinyl records, these expertly remastered stories are now available to download for the first time.


'We came into the world like brother and brother,
And now let's go hand in hand, not one before another.'


How do any of us really know who we are? A man arrives in a strange town only to find that everyone knows his name, but thinks he's someone else. A woman wonders why her husband is not the man he was, but starts to rather like it. Confusion mounts as everyone uncouples from themselves. Will they ever find themselves again? And do they really want to?


All of the Shakespeare plays within the ARGO Classics catalogue are performed by the Marlowe Dramatic Society and Professional Players. The Marlowe was founded in 1907 with a mission to focus on effective delivery of verse, respect the integrity of texts, and rescue neglected plays by Shakespeare's contemporaries and the less performed plays of Shakespeare himself. The Marlowe has performed annually at Cambridge Arts Theatre since its opening in 1936 and continues to produce some of the finest actors of their generations.


Thurston Dart, Professor of Music at London University and a Fellow of Jesus College Cambridge, directed the music for this production.


The full cast includes: Denis McCarthy; Michael Hordern; George Rylands; George Rylands; Michael Bates; Michael Bates; Peter Orr; Clive Swift; Terrence Hardiman; Dudley Jones; Lally Bowers; Joan Hart; Janette Richer; Janette Richer; Prunella Scales.
Genres: