The Comfort of Favorite Things
Unabridged Audiobook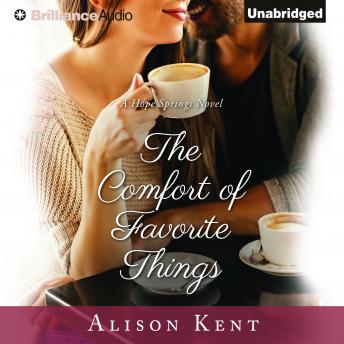 Duration:
9 hours 23 minutes
Summary:
When Dakota and Thea reunite in Hope Springs after a decade apart, their love might pass the test of time…

No matter how many years Dakota Keller has spent trying, he can't outrun his past, so when a private investigator tells him his sister needs him, he travels to the small Texas town of Hope Springs to start a new life with the support of his siblings. When he arrives to do a routine construction job at the town's new espresso bar, he's shocked to discover that the owner is Thea Clark—the girl he couldn't resist in high school and whose memory kept him sane in prison.

Recovering from an abusive relationship, Thea decides that her past is off-limits for discussion, even with Dakota. After all, it feels like a lifetime since she last saw him. But when Dakota's brother's firm is tapped to renovate the women's shelter Thea runs out of her home, old feelings quickly reignite. Could a casual affair from high school turn out to be the one connection neither of them can live without?
Genres: